FREE DELIVERY – CASH ON DELIVERY
We want you to know
Power: 16V-24V AC, ≥10VA (May use existing doorbell-chime circuit, or standalone transformer and wires.)
BLACK FRIDAY SALE STARTS IN
Wyze Video Doorbell + Chime
🚚 FREE delivery on your order.
Product Information
Your front door is an incredibly magical place. It's where opportunity knocks and excitement arrives in cardboard boxes. It welcomes friendly faces and new acquaintances. And it's a mighty protector against all that's unwelcome. The Wyze Doorbell allows you to be at your front door no matter where you are. It packs advanced camera hardware and smart features into a mighty small frame. It is lab tested it under extreme conditions so it always performs when you need it to.
Push Notifications. Never miss another visitor. Unless you want to. Receive push notifications when Wyze Video Doorbell is pressed so you know the moment someone's at your door. Pull up a live stream of your visitor before responding to decide whether you'd like to ignore a solicitor or answer the delivery driver using the Wyze app. Power: 16V-24V AC, ≥10VA (May use a standalone transformer and wires.). Cam Plus Compatible
3:4 Aspect Ratio. 3:4 head-to-toe view & 1080p Full HD Video: People are taller than they are wide. So is our live stream. Wyze Video Doorbell live streams video in 1080p Full HD with a 3:4 aspect ratio so you can see every visitor from head to toe. You'll also be able to see packages left on the ground beneath your doorbell.
Motion Detection and Smart Alerts. Wyze Video Doorbell lights up brightly when motion is detected nearby, alerting visitors and would-be porch pirates of your video doorbell. Plus, you can turn on push notifications to get a phone alert whenever anyone or anything approaches your door, even if they don't ring the doorbell.
Built to endure the elements. IP65 weather-resistant. Install Wyze Video Doorbell on your door without worrying about interference from the elements. IP65 weather resistance protects this doorbell from rain, snow, and sun.
Chime Included. Hear your doorbell ring, chirp, or bark from any room. One chime is included with each Wyze Video Doorbell.
Doorbell Tech Specs:
Weight: 49g
Size: 3.81cm x 8.25cm x 1.59cm.
Camera: F2.0 aperture, 2.7mm focal length, 1/2.8″ CMOS
Image Quality: 1080p and 480p w/ 8x Digital Zoom
Frames per Second: 20 Daytime, 15 Nighttime
Audio: Built in Speaker & Microphone (with 2-way Audio & Noise/Echo Cancellation)
White LED (Fill Light): 6 x 5000K (daylight color temperature)
IR Night Light: 4 x 940nm Infrared LED
Connectivity: Direct to Wi-Fi 802.11 b/g/n, 2.4GHz (5GHz Wi-Fi not supported)
IP65 Weather-resistant
Operating Temperature: -20°C to 50°C
Field of View: 120° Vertical x 88° Horizontal
Operating Systems: iOS 9.0 and Android 5.0 or later
Data Security: End-to-end encryption, HTTPS secure transfer protocol, AES 128-bit encryption
Chime Tech Specs:
Chime Power: Standard US Power Outlet: 240V, 0.1A, 50/60Hz
Weight:  56g
Size: 5.08cm x 5.08cm x 3.56cm
Chimes: 5 modern, 4 classic doorbell, 3 animal sounds, 6 automation sounds, 1 intruder alarm.
What's included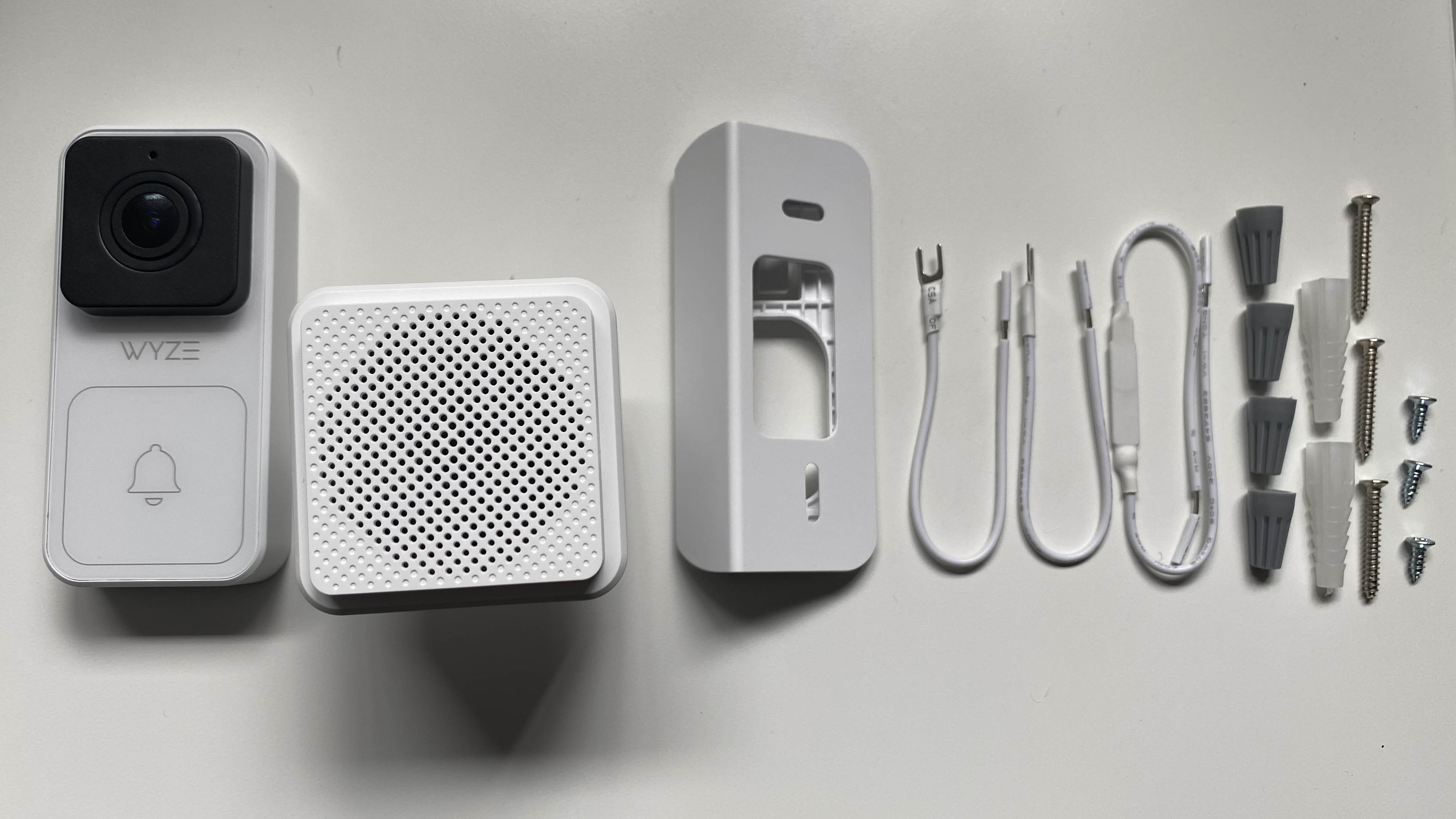 Delivery, Returns & Warranty
Delivery
Free delivery in Lebanon. Pickup and Same-day delivery possible. Learn More.
Returns
15-day returns on any order. Return policy exclusions apply. Learn More.
Warranty
We warranty our products to be free of manufacturing defects, and we will repair or replace with a new product, at our option, any product sold by us that is deemed defective. Exclusions apply. Learn More.

Is this a gift or surprise? Please contact us if you wish to add extra gift-wrapping. Extra costs apply.
We want you to know
Power: 16V-24V AC, ≥10VA (May use existing doorbell-chime circuit, or standalone transformer and wires.)